Product Description
High Quality & Made to Order Stainless Steel Table Top Conveyor Chain (TS635)
 
Product Description

1. Material: Stainless steel chain / Alloy Carbon Steel
2. Surface Treatment: Zinc-Plated / Nickel-Plated / Dacromet-Plated
3. Short pitch stainless steel conveyor chain with attachments.
4. Double pitch stainless steel conveyor chain.
5. Double pitch hollow pin chain.
Note: If you have drawing or samples, we can do the special conveyor chains.
Product name 
Table Top Conveyor Chain (TS635)
Materials Available 
1. Stainless Steel: SS304, SS316, etc
2. Alloy Steel: 45Mn, 42CrMo, etc
3. OEM according to your request
Surface Treatment
Shot peening, Polishing, Oxygenation, Blackening, Zinc-plated, Nickel-plated, Anodized, etc.
Characteristic
Fire Resistant, Oil Resistant, Heat Resistant
Application
Mainly used in products transmission
Design criterion
ISO DIN ANSI & Customer's Drawing
Size
Customer's Drawing & ISO standard 
Package
Wooden Case / Container and pallet, or made-to-order
Certificate
ISO9001: 2008 
Advantage
First quality, Best service, Competitive price, Fast delivery
Delivery Time
20 days for samples. 45 days for official order.
View more products,please click here…
 
Company Profile
| | |
| --- | --- |
| Material: | Stainless Steel |
| Structure: | Conveyor Chain |
| Surface Treatment: | Oil Blooming |
| Chain Size: | Ts635 |
| Feature: | Heat Resistant |
| Sample: | for Free |
Samples:

US$ 0/Meter

1 Meter(Min.Order)

|
Request Sample
Customization:

Available

|

Customized Request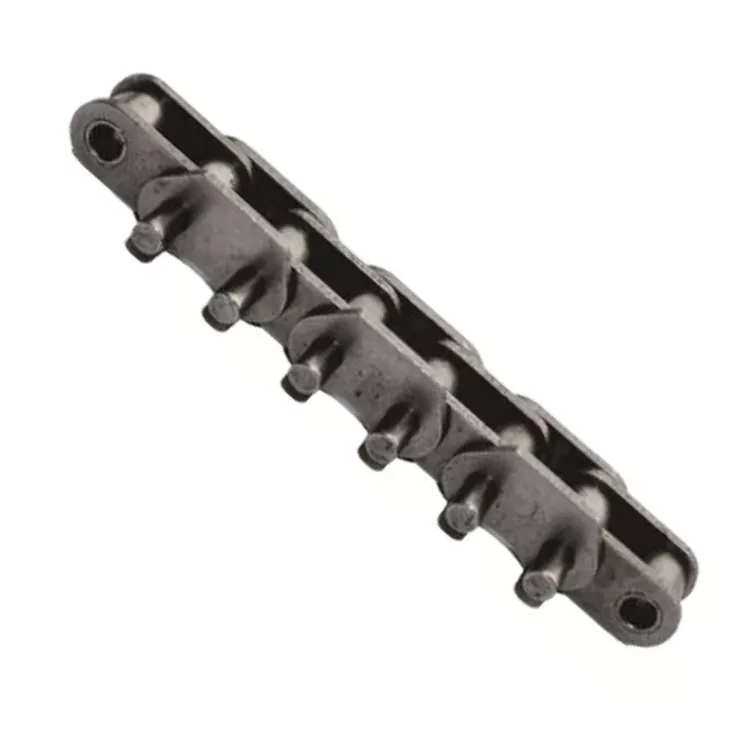 How does a conveyor chain impact energy efficiency in a system?
A conveyor chain plays a significant role in the energy efficiency of a conveyor system. Here are the ways in which it impacts energy efficiency:
1. Reduced Power Consumption:
– A well-designed conveyor chain with low friction characteristics can minimize power consumption. By reducing the frictional resistance between the chain and the conveyor components, less energy is required to move the chain and transport the materials along the conveyor system.
2. Efficient Power Transmission:
– The design and construction of a conveyor chain contribute to efficient power transmission. Chains with optimized pitch, roller diameter, and sprocket tooth profile ensure smooth and effective power transfer, minimizing energy losses during operation.
3. Proper Chain Tensioning:
– Maintaining proper chain tension is crucial for energy efficiency. An adequately tensioned chain ensures optimal contact between the chain and the sprockets, minimizing slippage and power loss. Regular inspections and adjustments of chain tension help maximize energy efficiency.
4. Alignment and Tracking:
– Proper alignment and tracking of the conveyor chain are essential for energy efficiency. Misaligned or poorly tracked chains can cause increased friction, leading to higher energy consumption. Regular monitoring and adjustment of the chain's alignment ensure smooth and efficient operation.
5. Regular Maintenance:
– Performing routine maintenance on the conveyor chain, including lubrication, cleaning, and inspection, helps maintain optimal performance and energy efficiency. Adequate lubrication reduces friction and wear, minimizing power losses and extending the chain's lifespan.
6. System Design Optimization:
– Considering energy efficiency during the design phase of a conveyor system can significantly impact its overall efficiency. Proper selection of conveyor chain components, such as low-friction materials and efficient drive systems, can help minimize energy consumption and improve the system's energy efficiency.
By employing these practices and utilizing energy-efficient conveyor chain technologies, businesses can reduce energy costs, minimize environmental impact, and enhance the overall sustainability of their operations.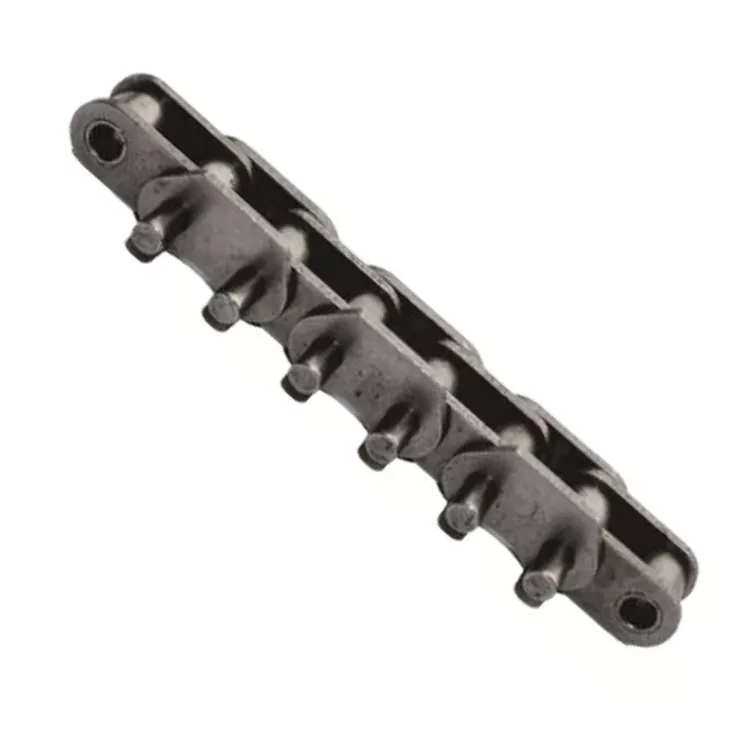 How does a conveyor chain handle different types of materials?
A conveyor chain is designed to handle a wide variety of materials in diverse industrial applications. It is capable of efficiently transporting different types of materials, including:
1. Bulk Materials: Conveyor chains are commonly used to handle bulk materials such as grains, coal, ores, aggregates, and powders. The design of the chain, including the spacing and shape of the links, helps prevent material spillage and ensures smooth and consistent flow.
2. Packaged Goods: Conveyor chains are also used for conveying packaged goods such as boxes, cartons, crates, and pallets. They provide a stable and reliable method of transporting these items along the production line, reducing manual handling and increasing productivity.
3. Small Parts: Conveyor chains with specialized attachments or small-pitch configurations are suitable for handling small parts or components. These chains ensure precise positioning and gentle transport of delicate or intricate items.
4. Heavy-Duty Loads: Industrial conveyor chains are capable of handling heavy-duty loads, such as automotive parts, machinery components, and large equipment. They are engineered to withstand the weight and stress of these objects, providing reliable and efficient material handling in demanding environments.
5. Food and Beverage Products: Conveyor chains used in the food and beverage industry are designed to meet strict hygiene and safety standards. They are constructed from materials that are resistant to corrosion, easy to clean, and compliant with food-grade regulations. These chains ensure the safe and contamination-free handling of food products.
6. Hazardous Materials: Conveyor chains can be used to safely transport hazardous materials, such as chemicals or waste products. Specialized chains with additional safety features, such as sealed housings or containment systems, are utilized to minimize the risk of spills or leaks.
Conveyor chains can be customized with different chain configurations, attachments, and accessories to accommodate specific material characteristics and handling requirements. The selection of the appropriate chain type, material, and design parameters ensures optimal performance and efficient material handling for a wide range of materials.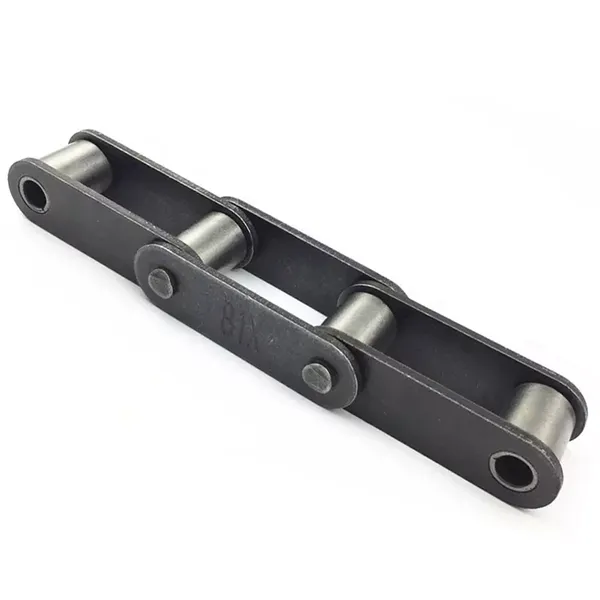 What industries commonly use conveyor chains?
Conveyor chains are widely used in various industries for efficient material handling and transportation. Here are some of the industries commonly using conveyor chains:
Manufacturing: Conveyor chains are extensively used in manufacturing industries such as automotive, electronics, appliances, and machinery. They facilitate the movement of components, parts, and finished products along assembly lines.
Food and Beverage: The food and beverage industry relies heavily on conveyor chains for conveying and processing food products, including packaging, sorting, and distribution. Conveyor chains in this industry often have specific requirements such as sanitary design and resistance to contaminants.
Logistics and Warehousing: Conveyor chains are integral to logistics and warehousing operations for efficient handling of goods, including sorting, loading, unloading, and distribution. They are commonly used in distribution centers, airports, and postal facilities.
Mining and Quarrying: Conveyor chains play a crucial role in mining and quarrying operations by transporting bulk materials such as coal, ore, gravel, and aggregates. They are designed to withstand heavy loads and harsh environments.
Agriculture: In the agricultural sector, conveyor chains are used for handling crops, grains, seeds, and livestock feed. They are employed in processing plants, grain elevators, and animal feed production facilities.
Automotive: The automotive industry extensively uses conveyor chains in assembly plants for transporting vehicle components, body frames, engines, and other parts throughout the production process.
Pharmaceutical and Healthcare: Conveyor chains are utilized in pharmaceutical and healthcare facilities for the automated movement of medical supplies, pharmaceutical products, and laboratory specimens.
Chemical and Petrochemical: Conveyor chains are employed in chemical and petrochemical industries for the handling of hazardous materials, bulk chemicals, and raw materials during production and storage.
Construction and Building Materials: Conveyor chains are used in construction sites and building material production facilities for conveying materials such as cement, bricks, aggregates, and roofing materials.
These are just a few examples, and conveyor chains are also utilized in many other industries where efficient material handling and transportation are essential for the production and distribution processes.



editor by CX 2023-09-19