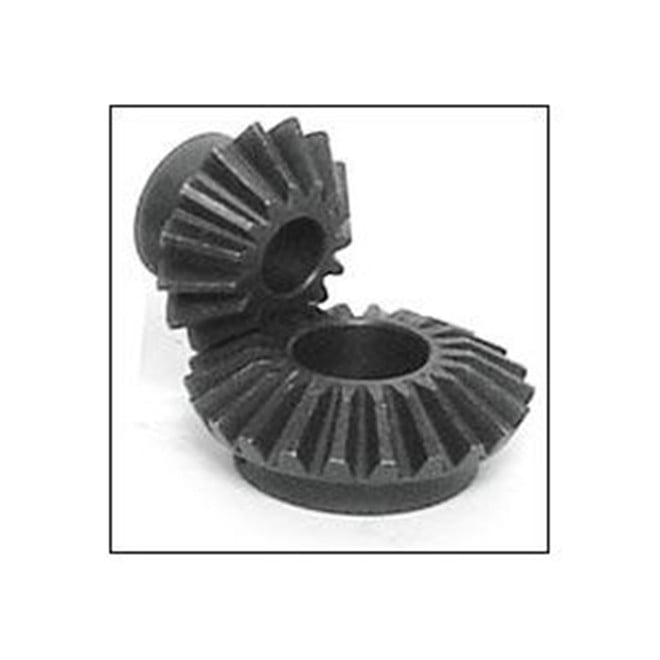 Detail Information
Bevel Gears – European Standard Series – Type A bevel gears dimensions
European Bevel Gear Specifications
Roller Chain ANSI Standard • British Standard • Heavy-Duty • Extreme-Duty • Super Heavy Series • Cottered or Riveted • Multiple Strand • Stainless Steel • Nickel Plated • Dacroclad™ • Extended Pitch (Including Large Roller) • 81X, 81XH, 81XHH • Hollow Pin • Agricultural (CA550, CA620, etc.) • Citrus Chain
Ratio
Mod No.
Number of Teeth
External diameter(de)
PitchDiameter (dp)
Our product range includes all kinds of helical gear, spur gear, bevel gear, gear rack, worm gear, sprockets,chains, bearings, pto shaft, agricultural gearboxes. A
F
Dn
Width between inner plates(D1)
Hub diameter(dm)
L
Lm
1:1
Mod.1.5
16-30
26.1-47.1
24-45
18-25
8-10
18-30
8-12
23.8-39.7
17-22.5
8.9-12
Mod.2
34.8-62.8
32-60
20-30
9-16
25-50
10-12
28.8-47.8
17-27
9.3-12.8
Mod.2.5
43.5-78.5
40-75
25.5-35.5
10-18
32-55
12-15
37.3-59.1
22-32
13.3-16
Mod.3
52.2-94.4
48-90
30-40
12-22
40-60
15-20
44.2-68.1
26-36
16.2-19
Mod.3.5
60.9-109.9
56-105
35.5-45.5
16-30
45-70
15-20
50.8-75.4
31-41
17.2-19
Mod.4
69.6-125.6
64-120
38-48
18-32
50-80
15-25
55.6-83.7
33-43
16.6-18
Mod.4.5
78.3-141.3
72-135
43-53
20-35
55-90
18-20
63.0-93.8
37-47
17-18
Mod.5
87.0-157.1
80-150
45.5-56.5
22-38
60-110
20-30
67.8-102.4
39-50
17.8-18.5
1:2
Mod.1.5
16,32
26.7-49.3
24-48
18.5-20
8
21-32
10-12
27.5-34.9
17-17.5
10-10.3
Mod.2
35.6-65.8
32-64
23-25
10
27-40
10-12
35.2-45.4
21-22
10-12.2
Mod.2.5
44.4-82.2
40-80
27.5-30
12
34-50
12-15
43-56
25-26.5
14.4-15
Mod.3
53.4-98.7
48-96
28-35
15
40-60
15
50.4-61.6
25-30.5
11.6-15
Mod.3.5
62.3-115.1
56-112
33.5-40
18
48-70
15-20
57.7-72.3
30.5-35
14.4-19
Mod.4
71.1-131.6
64-128
36-45
20
50-80
20
65.5-80.8
32-39.5
13.4-23
Mod.4.5
80.1-148.0
72-144
39.5-50
22
60-80
20-25
73.2-90.4
35-43.5
15.4-24
Mod.5
88.9-164.5
80-160
50-55
25
60-85
20-25
80.6-106.1
45-48
21.1-27
1:3
Mod.1.5
16,48
26.9-72.9
24-72
22
12
20-42
10-15
29.2-46.3
19-21
9.7-12
Mod.2
35.8-97.3
32-96
25.5-26
15
25-50
12-15
35.9-58.9
22-24
9.4-13
Mod.2.5
44.7-121.6
40-120
28-32
18
33-60
14-20
44.6-70.4
26-27
9.2-16
Mod.3
53.7-145.9
48-144
30-38
18
42-65
15-20
54.1-84.2
28-32
11.2-19
Mod.3.5
62.6-170.2
56-168
36.5-44
22
48-75
15-20
62.5-98.8
34-37
13.4-19
Mod.4
71.6-194.5
64-192
42-50
25
55-85
20-22
71.2-113.3
39-42
15.7-23
Mod.4.5
80.6-218.8
72-216
53-58
28
60-90
20-25
81.9-133.4
49-50
23.4-27
Mod.5
89.5-243.1
80-240
60-65
35
60-100
20-28
90.5-145.7
55-57
22.5-35
1:4
Mod.1.5
16,64
26.9-96.7
24-96
25
12
18-60
10-15
33-61.1
22-24
12.2-13
Mod.2
35.9-129.0
32-128
24-28
15
25-70
12-20
38.9-73.1
23-24
8.5-14
Mod.2.5
44.9-161.2
40-160
30.5-35
18
34-80
15-20
48.8-92.6
29-30
11.7-16
Mod.3
53.8-193.5
48-192
32-42
20
40-90
15-20
58.8-108
30-36
11.1-22
Mod.3.5
52.8-225.7
56-224
40-50
25
45-100
15-25
69.3-127.1
38-43
14-22
Mod.4
71.7-257.9
64-256
50-60
30
50-110
20-28
81.8-148.2
48-52
18.5-30
Mod.4.5
80.7-290.1
72-288
55-65
32
60-120
20-30
89.8-167.1
53-57
21.6-35
Mod.5
89.7-322.4
80-320
60-70
35
65-120
20-30
97.7-185.1
58-61
23.2-42
Product Information
The products are made of high quality alloy steel production. The plates are punched and squeezed bores by precision technology. The pin, bush, roller are machined by high-efficiency automatic equipment and automatic grinding equipment, then through heat treatment of carburization, carbon and nitrogen protection mesh belt furnace, surface blasting process etc. Assembled precision by Internal hole position, spin riveted by pressure to ensure the performance of the entire chain.European Standard bevel gears
Availability:
* Standard bevel gears
* OEM bevel gears
High Performance:
√Strong Ultimate tensile strength
√Perfect surface treatment
√Durable,Flexible
Quality Assurance:
ISO9001: 2015 and GB/T24001-2016 / ISO14001: 2015.
High quality: 
√Corrosion resistance
√Durable, Robust and Reliable
√Bad condition resistance
√Lower weight–high speed
Application industries:
√Manufacturing
√Agriculture
√Building Material
√Oil and Gas
√Technology and Science
Package:
Plastic bag+Neutral box +Plywood box
Material:C45
Pressure angle:20°
EPT European Spur Gears are widely used in Agriculture,Printing,Chemical,Food and Beverage,General Machinery,Oil and Gas,Packaging and Logistics,Paper Industry,Textile industry,Woodworking Machinery and so on. 
The biggest characteristic is that the chains can be customized in different standard and materials according to your requirements. Made from the steel and the up-to-date skills as well as precision procedures, the high quality roller chain can withstand strong pressure and high temperature.